It was a historic weekend for TechMedicine. This year's College of Primary Care Physicians of Zimbabwe -CPCPZ and Pharmaceutical Society of Zimbabwe -PSZ joint congress became the largest gathering of health practitioners to have e-Health on the main menu.
Surrounded by the breathtaking landscape of the Troutbeck Resort, doctors and pharmacists converged under the theme "Changing times and changing practices: Metamorphosis of Medicine and Pharmacy in the 21st Century"
The congress was held in the context of the current upheavals in the health care industry.
Zimbabwean environment becomes tough for health providers
Recently, doctors announced plans of a boycott of all medical aid societies to start on the 1st of July 2016. This is in reaction to health insurers not remitting claims within the stipulated time as well as not according to the gazetted amount.
Compounding the crisis, the local tax body, ZIMRA, is moving to tax health care providers based on money claimed and not money actually paid.
To face these and other challenges presented by the prevailing socioeconomic crisis, the need to change practices and incorporate new technologies was therefore realized.
e-Health offers some workarounds
Headlining a session focusing on social media and medical practice was a Facebook celebrity, Dr. Brighton Chireka aka Doc Beecee. He runs a blog and a Facebook page on which he provides general health information and tips reaching thousands of people across Africa.
The sad irony is that even though he is Zimbabwean born and trained, he is only able to do this because he is registered and practices in the United Kingdom (UK).
According to current Medical and Dental Practitioners Council of Zimbabwe MDPCZ policy, his Facebook page service would be regarded as advertising of professional services.
Dr. Chireka challenged colleagues to integrate social media into medical practice and proposed for policies that support and guide health professionals on the use of social media as exists in other countries such as the UK and Australia.
A definite highlight of the 2-day conference was Dr. Admore Jokwiro's telemedicine project. As the district medical officer of Nyanga district, he set up a simple telemedicine network in which underserved, remote rural health centers are connected to Nyanga district hospital.
Using VSAT for internet connection and Skype, Dr. Jokwiro conducts medical consultation sparing patients the burden of traveling tens of kilometers.
From the statistics he has been gathering the patient workload at the referral hospital has been declining as more and more people are accessing care remotely.
The success of his pilot project invited the Ministry of Health and the telecoms regulator POTRAZ to adopt it and scale it up to connect more health centers in the province. The intention is to use the results from the pilot in Manicaland to set up a nationwide telemedicine network.
eHealth is increasingly drawing more attention and emerging from the shadows. Dr. Simbini and the team at Health Information Technology Advisory Committee HITAC have been laying the groundwork for many years.
They have engaged in surveys that measured the levels of adoption of eHealth systems in the country. He emphasized the need for enterprise architectures for enhanced practitioner collaboration and patient care.
In their survey they had noted that particularly in the private sector, many health care facilities had installed electronic Medical records systems but unfortunately these are not interlinked resulting in data silos. Moving forward, there is a need for standardization of systems enforced by some regulatory framework.
With every big medical conference comes the usual list of exhibitors. The ever present pharmaceutical wholesalers and distributors were there in full force and the medical aid societies too.
Uniquely, as a sign of the changing times, there were 2 tech companies amongst the exhibitors.
Flexi e-Health Systems is a local company that specializes in providing custom business applications for the medical market. They produce advanced solutions for a variety of clinical specialties. To date, they are responsible for the e-Health system installed at the Belvedere Medical Center as well as 3 pharmacies in Harare.
Also exhibiting was Check-Up, an mHealth start-up with a pan-African focus of improving health care access through leveraging the convenience enabled by mobile technology.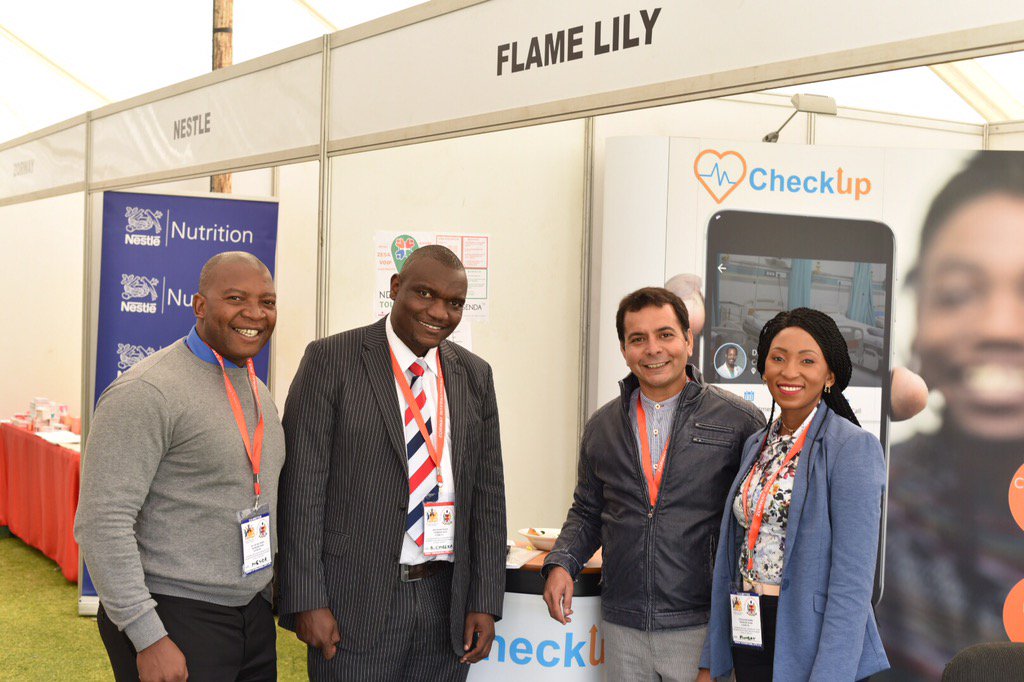 Times are changing and the medical profession was being encouraged to change as well. The disruptive innovation e-Health will unleash on the healthcare delivery system of Zimbabwe is inevitable.
With it will come improved patient outcomes, efficient disease prevention, and enhanced health promotion. Let us not forget that this is also a multi-billion dollar industry!
As Zimbabweans, we should work hard to secure our share of those billions. We already lost $15 billion we can't afford to lose any more!
Att the upcoming Zimbabwe Medical Doctors Association – ZIMA congress set for August this year I expect more TechMedicine focused discussions. I hope to see more private health sector initiated e-health projects and more tech companies exhibiting their health solutions.